Are looking to buy or sell something German or from Germany? Why not at Ebay? Click on the button below.
Web Tips
Visit our advertisers below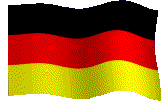 Cologne
Featured Sponsor
Cologne City Flag
This delightful city (pop. 955,500) with Roman origins is the home of a stunning 13th-century Gothic cathedral. The twin-spired structure is supported by 56 pillars and highlighted by magnificent stained-glass windows. Art lovers won't want to miss the museum complex between the Rhine and the cathedral. It contains paintings from Dutch and German masters (14th-16th century) and modern art in a beautiful setting (white walls, lots of windows and skylights, and long halls). If you have time, visit the Roman-Germanic Museum (3rd-century Dionysian mosaics). Cologne's a scenic city with plazas, shopping and nightlife—well worth a one-night visit, especially during its famous Carnival celebrations. A boat leaving Cologne follows the Rhine to Strasbourg, France. The most scenic part of the route lies between St. Goar and Rudesheim (lots of castles, vineyards, hills, etc. There's a pleasant train ride from Frankfurt to Cologne, passing Lorelei, the Rhine Valley and other pretty places. Rhine River Day Cruise 20 mi/32 km north of Bonn.
Airports/Cars/Trains/Transportation to and around Berlin
Cities Nearby
Events
Hotels (Click our advertisements to go to their website)
Internet Cafes (staying in touch with family and friends)
Live Web Cams
Maps
Misc. Cologne Sites
Youtube Carnival (Fasching)
Night Life
Club Ex
Stadtgarten
Arkadia
Lulu-The Next Generation
E-Werk
Fame
One World
Das Ding
Restaurants

Shopping

Sightseeing Tours
Cologne Cathedral.
Guided Tours to Old Town.
The Roman-Germanic Museum.
The Wallraf-Richartz-Museum.
Cruise the Rhine River
Sports
Travels Through Germany
P.O. Box 25043
Philadelphia, Pa 19147
Please e-mail the webmaster with all broken links or suggestions:
Copyright © Travels Through Europe All rights reserved.